Scott Leckrone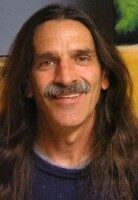 I started art at a very young age through High School, at which point I gave up, then started again 12 years ago.
Although working mostly from photos, I am not trying to reproduce them, instead as I work on the painting I look for things that may be happening that were not intended… taking me in a different direction. I like to let the imagination have a say in the process, letting the creative side take over.
Trying to set the painting up. In the process mistakes are made, which are welcome. I like trying to push the colors to the edge without going over. It is an ongoing journey & for me it is to see things differently.
rkymntwolfpack@msn.com
720-331-5242