The PSC Needs You!
The Pastel Society of Colorado depends on volunteers to deliver the shows, the workshops, demos and all the great experiences members appreciate. Consider giving back while making or deepening lasting friendship with like-minded artists. A host of positions will be needed in the coming year.
Western Slope Co-VP: Susie Safranek-Roehm is looking for a Co-VP
Co-Treasurer for 2024/25: Will Co-Chair with Doug Graybeal (see detail below)
PSC Director at Large: Need two volunteers; first term will be 2024/25 (can serve one term or up to three)

CHAIRS: (all would start 1/1/24, and there is no set time frame for a term):
Front Range Program Demos: (to replace Lydia Pottoff)
Marketing/Publicity: (to replace Teri Hoyer)
Membership Co-Chairs: (to replace Jeannette Stutzman & Sarah St. George)
One Day Workshop & Paint Along Chair: (to replace Christina Oddo)
Online Exhibit Co-Chair
Mile High International Chair: (starting 2024, for the 2025 MHI show)
Education Co-Chair
Historical Chair: (to replace Judy Sprague)
For these positions, please contact Nicole Huggins with questions OR the current chairs for a more detailed description of the role & responsibilities. OR contact Nicole (please) if you will accept one of these volunteer positions! You are SO needed, and you will enjoy being part of PSC's continued vibrancy. 303.880.5794, nicolehuggins@comcast.net
You can also sign up directly through Signup if you might be interested in volunteering for any of these Officer and Chair positions, by clicking here or copying into your browser the link at https://signup.com/go/VQntbss
Available Position – Co-Treasurer: Learn the interworking of the Pastel Society of Colorado
The PSC Co-Treasurer position is a two-year term, 2024-2025, and is one of the most treasured positions. There are two Co-Treasurers, currently Susan Hommel and Doug Graybeal, so their individual two-year terms overlap giving the incoming Treasurer time to learn the ropes. There is also a paid Bookkeeper, Dawn Buckingham, who assists and is available for questions as well. The job is not time consuming or complex, thanks to prior Treasurers' organizational skills and today's technology. Familiarity with Quick Book helps, but is not required.

Past Treasurers have created informative documents about the position requirements, including the following description as well as when required tasks are due (e.g., payment of sales taxes from PSC shows, completing reports).
Note there is always help available from the Bookkeeper, your Co-Treasurer and former Treasurers, so join the PSC leadership team by volunteering for this critical role. Please contact Nicole Huggins at nicolehuggins@comcast.net if you may be interested in this position. Also, the two current Treasurers are available to answer any questions and you can reach them by emailing treasurer@pastelsocietyofcolorado.org.
We also are still looking for volunteers for the Small Works Show. You can contact Clare Scott at clare@clarescottart.com and Jane Evans at revansjcolorado@gmail.com about it. You can also sign up directly through Signup for the Small Works Show by clicking here or copying into your browser the link at https://signup.com/go/ukpRDeB.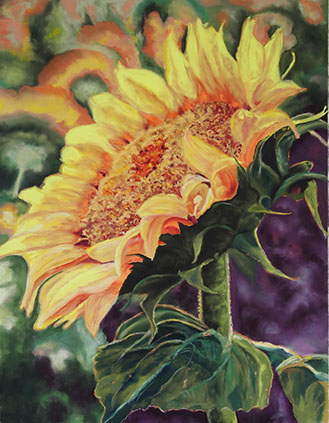 "Things are Looking Up" by Ivadell Marie