Welcome to the 2023 PSC Online Show EXPRESSIONS
PSC Members and Non-Members
Show Co-Chairs are Sarah St. George and Jeannette Stutzman
February 1 to April 1, 2023
Show will remain online until our next online show posts but sales end April 1, 2023
Lyn Asselta readily admits that she has considered the landscape her muse since she was a child. Growing up on the rocky coast of Maine, where the weather changed sometimes by the minute, the effects of atmosphere on land and water were an everyday, mesmerizing occurrence. Her memories are rich in details of the places she has experienced throughout her life and she has a deep reverence for places that exude a sense of strength and quiet. Those qualities continue to appear time and time again in her paintings. Her chosen medium of pastel allows her to extend her tactile sense of communicating with the natural world into the painting process at her easel.
Asselta's award winning landscape paintings have been exhibited throughout the United States and have been included in invitational exhibitions in France and China. Lyn is an IAPS (International Association of Pastel Societies) Eminent Pastelist, a Signature member of the Pastel Society of America, a member of the Salmagundi Club, a Member of Excellence in the Southeastern Pastel Society, and is the founder and past president of the First Coast Pastel Society based in northeast Florida. A sought-after workshop instructor, she has taught workshops in Canada, Curaçao, and across the USA. In 2009, Lyn was selected as an Artist in Residence at Acadia National Park in Maine. Her work has been featured in several books and magazines including Michael Chesley-Johnson's plein air book, "Beautiful Landscape Painting Outdoors", the Pastel Society of America's publication, "Pastelagram", Pastel Journal Magazine, Plein Air Magazine, and the French publication, Pratique des Arts. She is a Unison Colour Associate artist and has contributed articles to their blog. Her weekly Saturday newsletter, Saturdays at the Cove, has a worldwide following.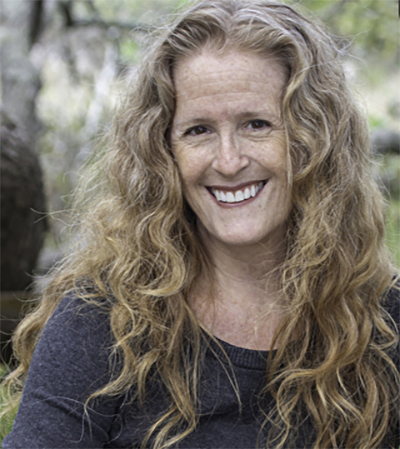 "I See You" by Jeff Slemons
16×20″, $800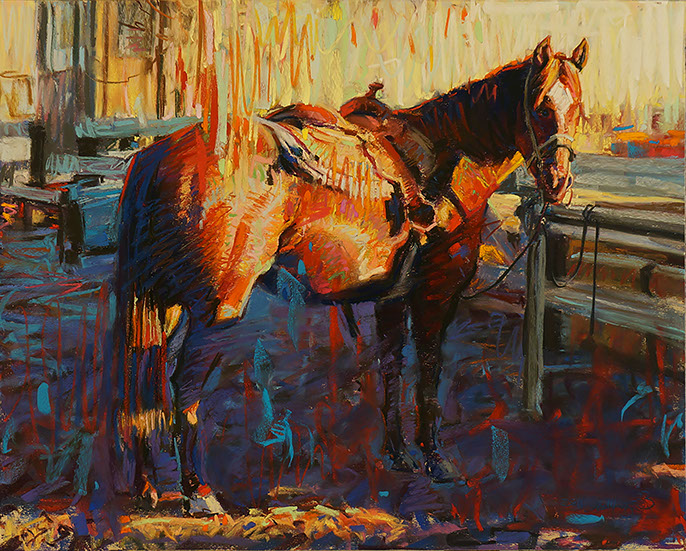 "Bold, energetic, textural, exciting…these are just a few adjectives that come to mind as I get to know this painting. I am always looking for something that pushes boundaries, something that combines great skill with that indescribable element of art that designates a clear and unique voice. This is a painting that stopped me in my tracks.
The use of a largely complimentary color palette allows this artist to push and pull light and shadow in eye-grabbing ways when combined with sure and descriptive mark-making. There is a joy to those marks, a playfulness that belies their ability to suggest sophisticated passages from light to dark, hard edges to soft, creating places for the viewer's eye to rest and also to dance. I will be looking at this painting for a long while…enjoying its energy and the way my eye moves through it. The horses gaze engages me while I sneak a peak at its surroundings, mesmerized by the shapes and lines and gesture that describe the texture and light in this place. To me, a good painting begs you to stay a while, to spend time wandering around and delighting in everything it has to offer. This painting offers a great deal on every level."
"My Favorite Things" by Barbara S. Groff
20×20″ $6000
"Andrew Wyeth once said that sounds were important in his work. This wonderful still life has me hearing the VonTrapp Family Singers in my head…raindrops on roses and whiskers on kittens, bright copper kettles…paintings that tell stories are a few of my favorite things, and this artist has skillfully assembled a beautifully sophisticated collection of objects representative of those in the lyrics to the song My Favorite Things. I am especially taken with the rendering of surfaces here, from silky ribbons and fabrics to the crocheted ornament, the dusty tabletop and the well worn book jacket fabrics, to the difference in metals- a copper kettle, brass sleigh bells, and the ornate drawer pulls. The small framed painting of the Alps and the titles on the spines of the books make images from the song come to life in their own subtle way. The use of the plain, softly lit, muted green background takes me directly to that WWII era, and the tablescape of strategically placed objects somehow still has an uncontrived feel to it, as if someone had lovingly placed all those objects there on display. Excellent drawing and painting skills, subtle use of color, and an obvious knowledge of the medium make this painting sing."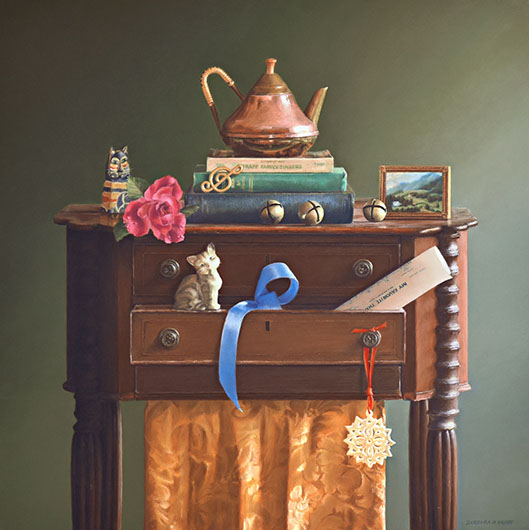 "Where the Game Trails Lead" by Ron Swearingen
22×18″, NFS
"Andrew Wyeth once said that sounds were important in his work. This wonderful still life has me hearing the VonTrapp Family Singers in my head…raindrops on roses and whiskers on kittens, bright copper kettles…paintings that tell stories are a few of my favorite things, and this artist has skillfully assembled a beautifully sophisticated collection of objects representative of those in the lyrics to the song My Favorite Things. I am especially taken with the rendering of surfaces here, from silky ribbons and fabrics to the crocheted ornament, the dusty tabletop and the well worn book jacket fabrics, to the difference in metals- a copper kettle, brass sleigh bells, and the ornate drawer pulls. The small framed painting of the Alps and the titles on the spines of the books make images from the song come to life in their own subtle way. The use of the plain, softly lit, muted green background takes me directly to that WWII era, and the tablescape of strategically placed objects somehow still has an uncontrived feel to it, as if someone had lovingly placed all those objects there on display. Excellent drawing and painting skills, subtle use of color, and an obvious knowledge of the medium make this painting sing."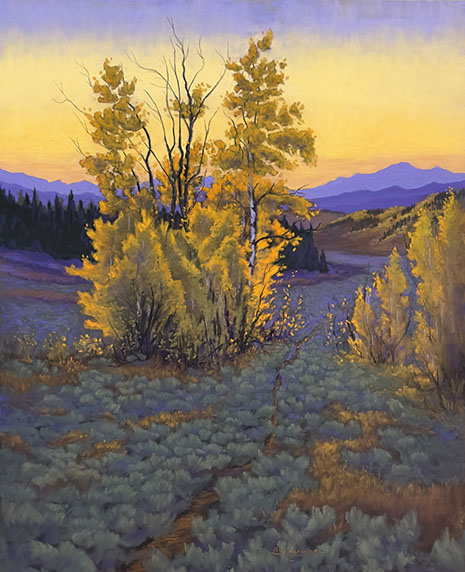 "Setting the Pace" by Kim Zielinski
16×20″, $640
"In this powerful, monochromatic, gorgeously composed image, color and light create a soft, atmospheric haze that speaks to the gentle nature of these enormous animals. To my eye, it even speaks of early morning, a quieter time of day, reflecting a peacefulness in their gathering. The tight grouping of elephants accentuated by the hazy light coming from the left side of the painting, evokes the cooperative spirit of these souls and the dramatic, centralized composition suggests the strength of the herd as it moves together as one unit. Use of light, a limited color palette, bold subject matter, and composition come together seamlessly in this beautiful composition."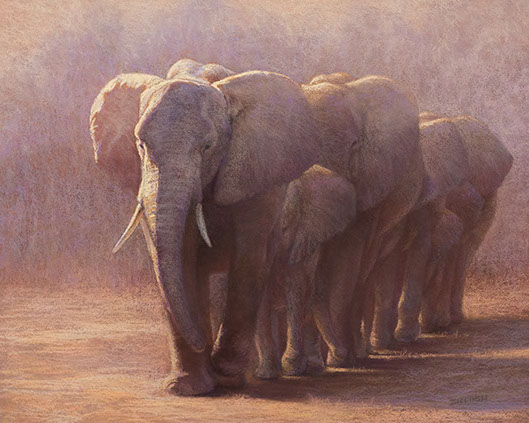 "Gather Round" by Laura Pollak
10×10″, $1300
"So often we are paint distance and space by lightening color, cooling it down, softening the edges of objects in that distance. This abstract turns that notion on its head, creating a deep, mysterious void that belies any sort of distance we are accustomed to. The feeling of tumbling up, or out, into this painting is somehow both inviting and unnerving; one can even see a vague curve that hints at another sphere far off in the distance, but the glowing, brightly lit edge that sits in contrast to this dark hole draws us in in a soft and inviting way. This piece, with its rich, velvety darks and its sense of endless space makes me want to observe its mystery more closely."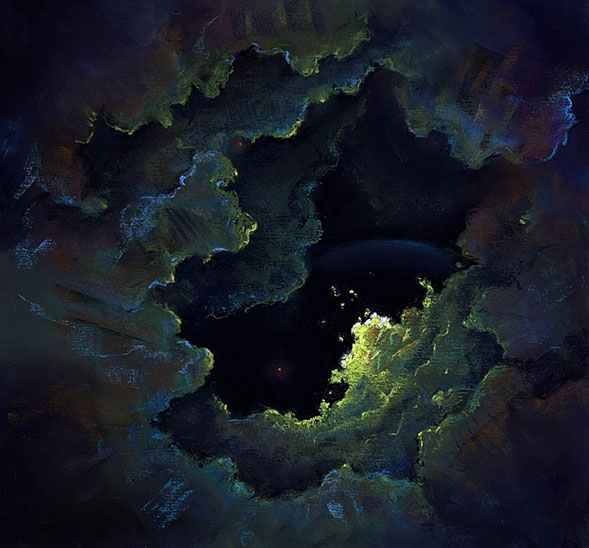 Honorable Mentions