2023 Mile High International
The 2023 Mile High International Pastel Exhibition
May 12 to July 1, 2023
Curtis Center for the Arts in Greenwood Village, Colorado
Juror and awards judge, Aaron Schuerr chose 84 pastel paintings for the show. During the opening ceremony, as he announced each award, Aaron provided a detailed description of his thought process in choosing each of the winners. He explained that he asks himself "What is their story? How well did they tell it?" He also talked about how an artist may tell a story using vibrant color and bold strokes or another artist does this with delicate subdued tones. He explained that he takes into account formal concerns – design, color, edges, consistency, pastel application, etc. But he says his task is to approach each painting openly and evaluate it on its own terms.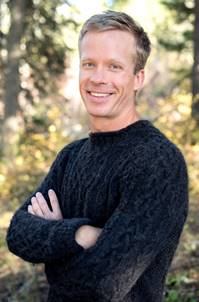 View the Show Catalog to See All Paintings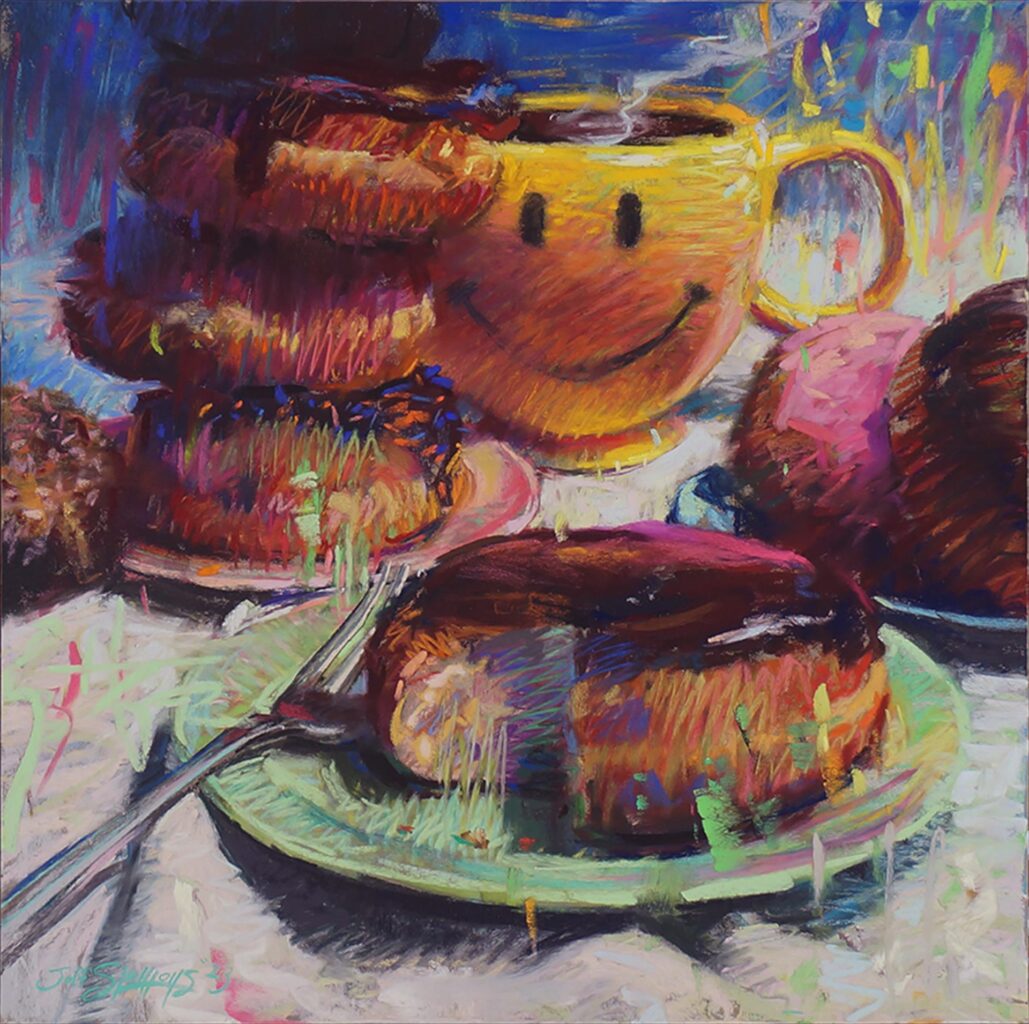 ARTIST: Jeff Slemons
TITLE: Peek-a-Boo
Judge's Comments: "Every once in a while a painting takes me totally by surprise. A smiley-face mug peeking from behind a stack of donuts fronted by a lone donut on a green plate? What kind of wildly inventive artist came up with this? Jeff Slemons creates the rules only to break them. The composition is masterful, the draughtsmanship is superb, the color relationships are deftly handled, and those scribbles and scratches of pure color teased-in like confetti? Where is the logic in that? Maybe the logic is in the whimsy, and the the joy is in the sheer audacity. He shouldn't get away with any of this, and yet he does so with aplomb. Bravo!"
ARTIST: Yidan Guo
TITLE: Immigrant Woman Series – Dee
Judge's Comments: "Yidan Guo's portrait, with its mix of charcoal and pastel, bridges the gap between drawing and painting. It is both gestural and precise. After an initial evaluation, I kept returning for another look. I took it off the wall to get a closer look. Each time I found it more and more compelling. I was surprised to find out that it is not a self-portrait; it is intimate, knowing, reflective and psychologically astute. It is also daring – a straight-on half-lit portrait that shows not only the tremendous facility of the artist, but a deep trust between artist and sitter. I encourage you to lean in for a closer look."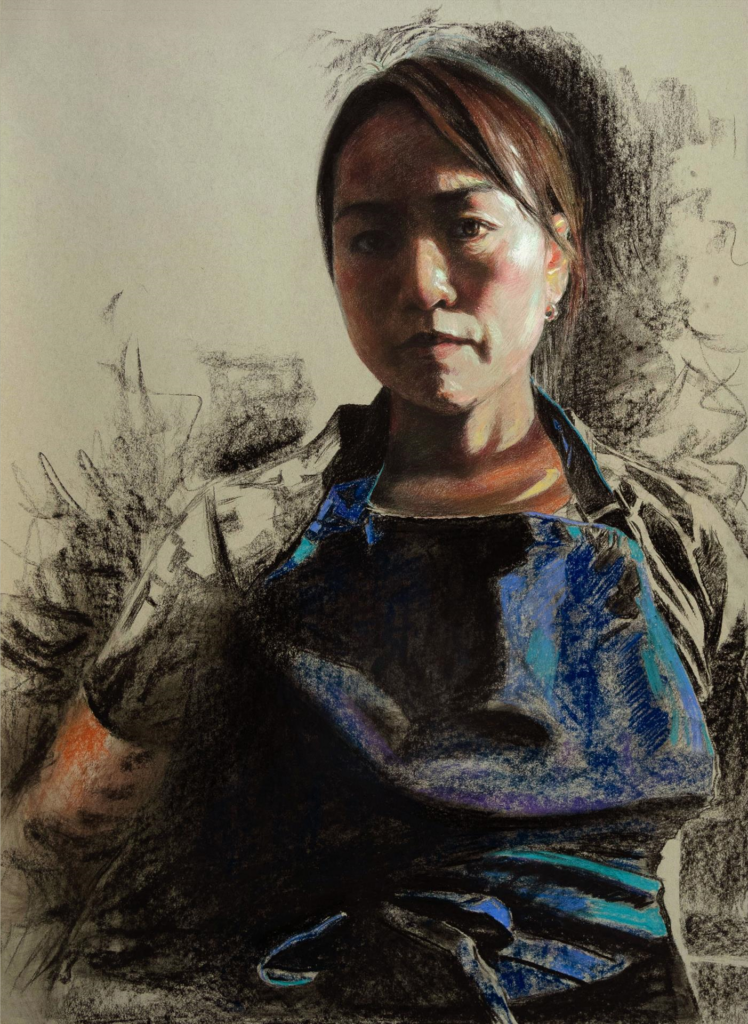 Second Place
ARTIST: Jane Christie
TITLE: Autumn in the High Country
Judge's Comments: "Autumn in the High Country, with it's confident mark making, exudes joy. It is big, bold, gestural, exuberant, and inviting. This is quintessential Colorado high country showing off its very best. What sets it apart from a mere "pretty picture" is Jane Christie's energetic calligraphy. She suggests rather than defines forms. Color relationships, from gold to green to mauve, are juxtaposed with skill and confidence, creating a visual rhythm that enhances the sense of depth and variety in an alpine landscape. I can't help but smile every time I look at it.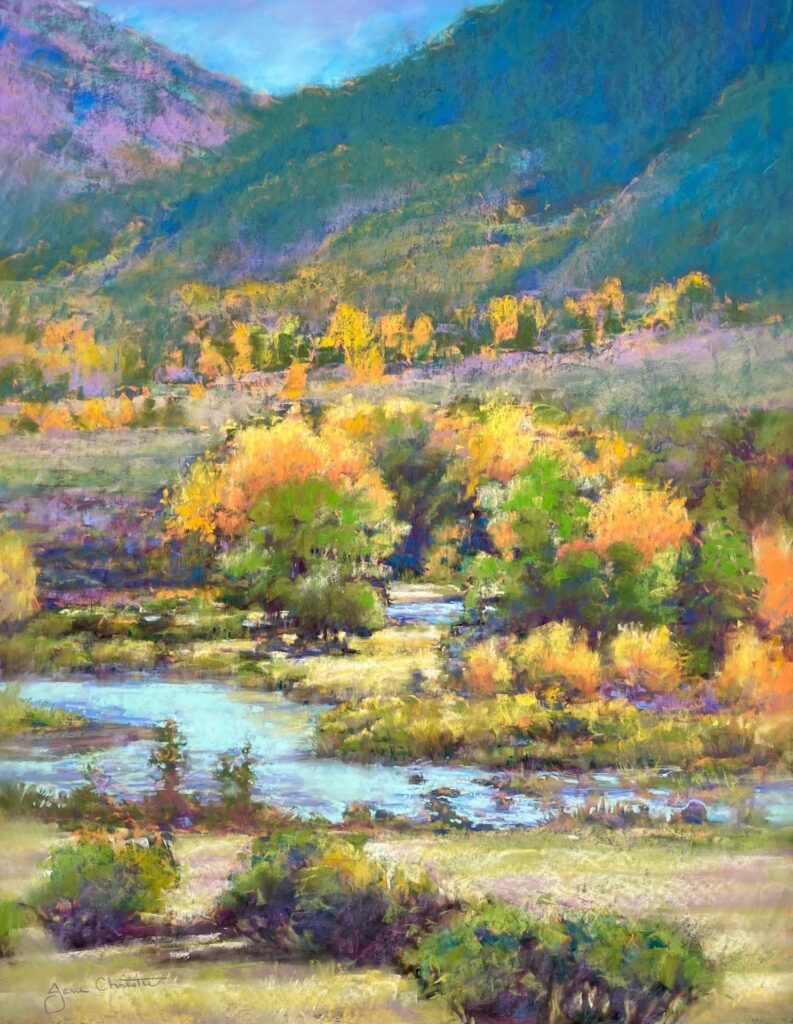 Third Place
ARTIST: Patti Arbino
TITLE: Wood to Rock III
Judge's Comments: "Patti Arbino's pastel painting is an enigma. It is both boldly abstract and sensitively observed. Part of me wants to know what I'm seeing. Is this the cross section of petrified wood? Is it organic? Inorganic? A larger part of me enjoys the mystery. Lines radiate from dark core, with overlapping folds and flecks of color leading up to an amoeba-like shape of violet. The painting is entirely surface – there is no foreground, middle ground, and background. It's hard to say if there is a top and bottom! But there are surprises in every carefully observed, superbly rendered inch."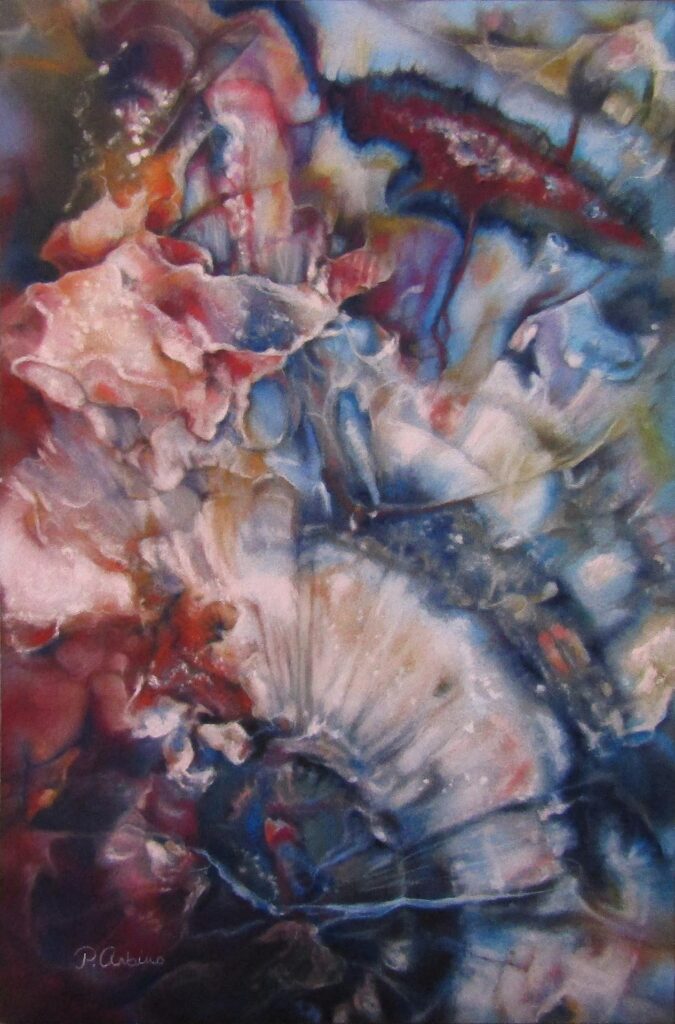 Terry Ludwig Award of Excellence
ARTIST: Stacey Roberts
TITLE: Just Before the Morning
Judge's Comments: "Just Before Morning" straddles fine art and illustration, narrative and formal pictorial concerns. Stacey Robert's style harkens back to Georgia O'Keefe and early 20th Century Western artists, but her painting is decidedly contemporary and distinctly unique. It brings back memories of days in Yellowstone, watching wolves and coyotes through binoculars, enjoying the vastness of the western landscape. Roberts distinctive design sensibilities and beautiful touches of color set the painting apart. And the subject? I can't help but smile!"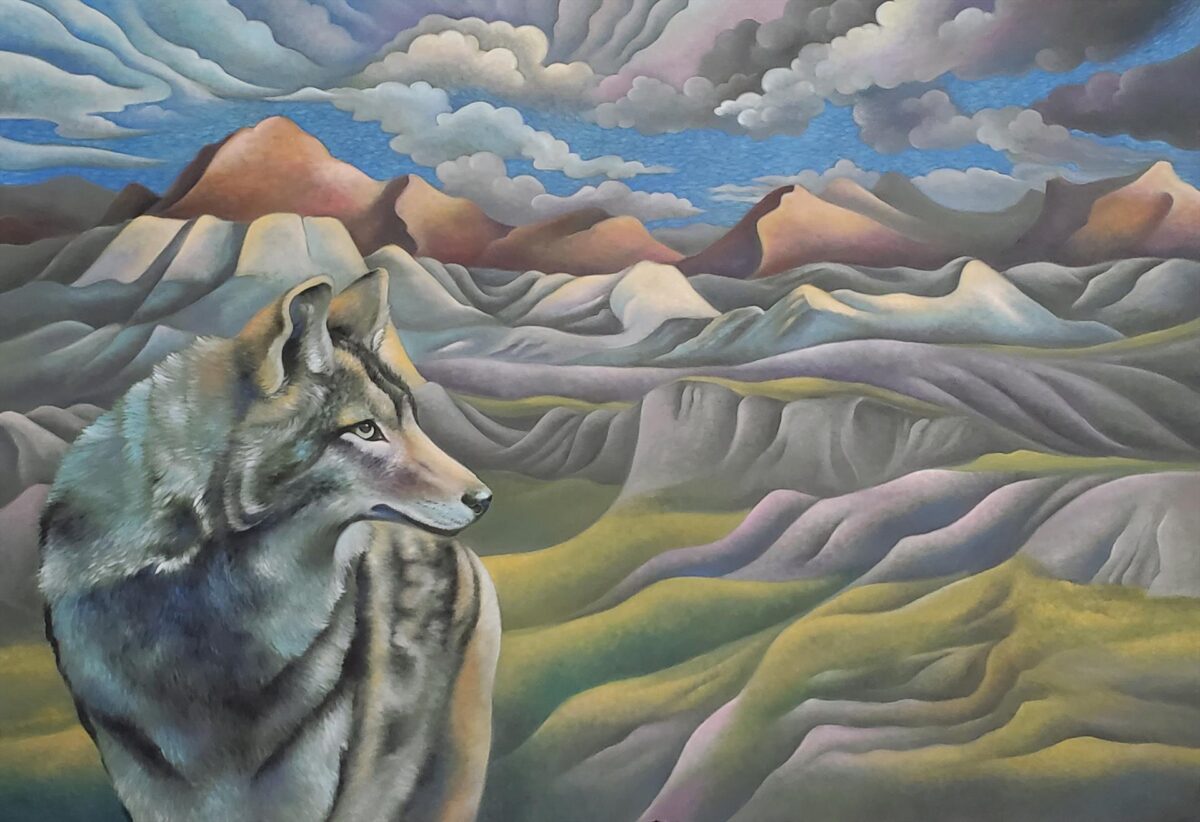 Elizabeth Mowry Poetic Landscape Award
ARTIST: Cheryl Browder
TITLE: Evening Quiet
Judge's Comments: "Some paintings need to be seen in person to really soak in the subtlety. Cheryl Browder's sunset Is an invitation to solitude. It is a gift. She shares a quiet moment when the last light touches the edge of shadowy clouds and we take it in and exhale. The balance between light and shadow, between land and sky, is thoughtfully composed and delicately rendered. Lean in and you'll notice beautiful touches of blue overtop warm earth tones, a subtle play of warm and cool within the shadows that ties land to sky."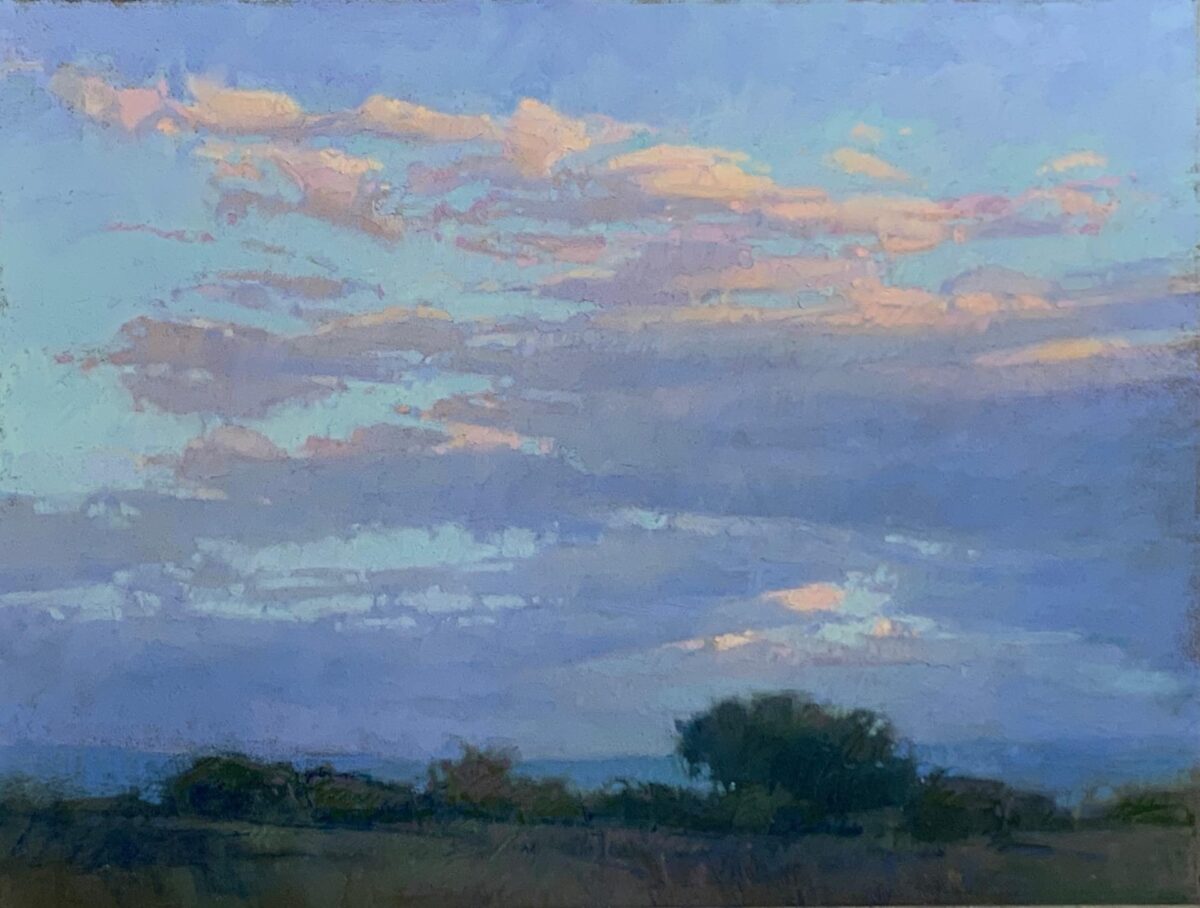 Honorable Mention
ARTIST: William Schneider
TITLE: Eva's Mom
Judge's Comments: "William Schneider handles pastel with virtuosic confidence. "Eva's Mom" presents a masterclass in edge work and color- he plays lost and strong marks off of soft touches, pale skin tones against touches of color, and natural harmonies against a bold backdrop to create a delicate, timeless portrait. "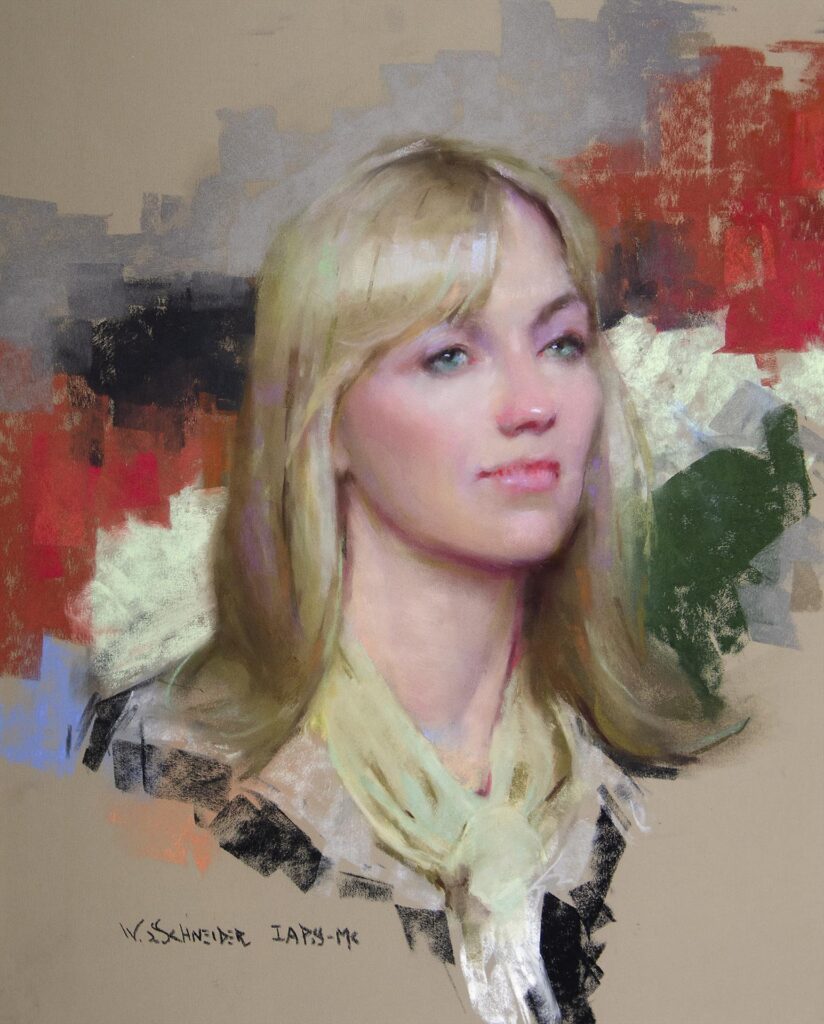 Honorable Mention
ARTIST: Sarah St. George
TITLE: Better Days
Judge's Comments: "While I've seen many florals, I can't remember ever seeing a painting of dying flowers! It's as though Sarah St. George is asking us what really constitutes beauty. In this case, the beauty is in the design: every leaf, every bulb is beautifully rendered. The negative shapes, outlined in blue, are orchestrated with precision. All this results in a painting that is both formally elegant and thematically surprising. "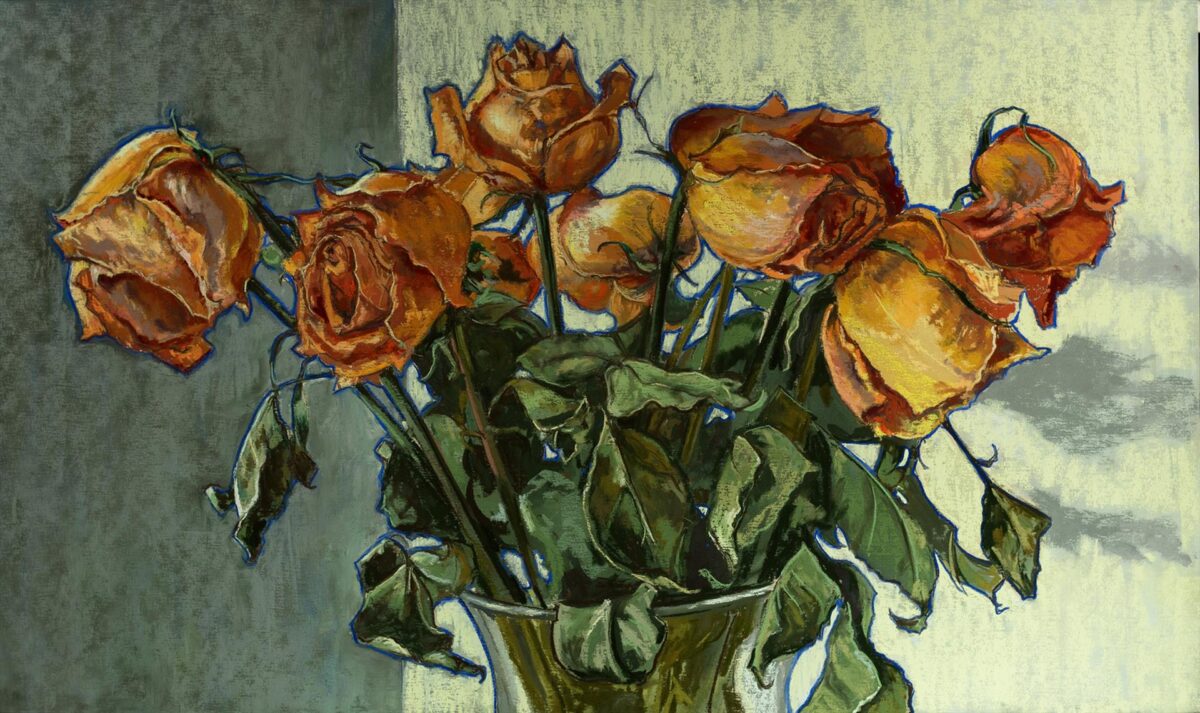 Honorable Mention
ARTIST: Jill Stefani Wagner
TITLE: Little Grand Traverse
Judge's Comments: ""Little Grand Traverse" is fresh and vibrant. Jill Stephanie Wagner plays bright green against pink and violet. Her marks are confident and the rolling hills speak of the joy of springtime. There is a pleasant rhythm in the horizontal planes. It is classic scene handled with fresh spontaneity."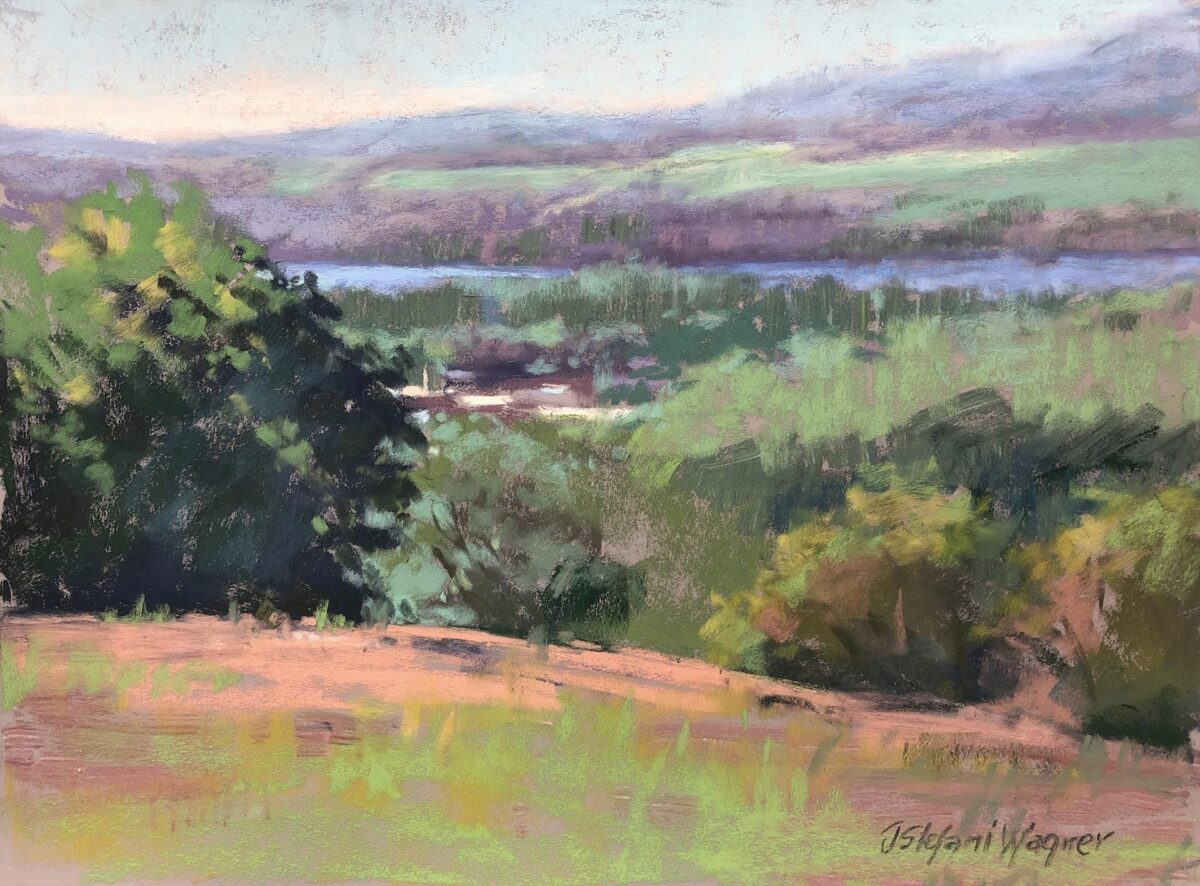 Honorable Mention
ARTIST: Kate Bergquist
TITLE: A Quiet Place
Judge's Comments: ""A Quiet Place," is aptly titled. The color scheme is analogous; the light is soft and delicate. What really sets this painting apart, and what kept me coming back for a third and fourth look, is Kate's handling of texture. She plays brittle dry grass against the soft, ephemeral trees. I can feel the rough texture of the grass and the coolness of the air, and it invites me in."