Neva Hall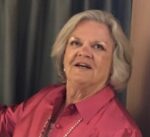 I spent my life being an artist wannabee. My career in banking left me with no time or energy to take lessons or self-teach. After retirement in 2018, the first thing I did was sign up for classes. I was fortunate to have two amazing teachers: Donna Clement (color pencil drawing) and Lydia Pottoff (pastels). I admire both of the women and through them and the Firehouse Art Center have met a wonderful, supportive community of artists.
My love for travel and nature has inspired me to primarily paint landscapes from photos I've taken on my trips. Painting nature affords me the opportunity to relive the moments of travel and hiking. My other love of animals has given me inspiration to paint my own fur girl and other animals with the goal of capturing their personality.
My ultimate goal is for the viewer to feel that same love of nature and maybe re-experience one of their own joyful moments. I live in Longmont with my husband of 43 years and we moved from the Midwest 8 years ago to be closer to our daughter and her family. We are loving life spending time with our granddaughters as well as our daughter and her husband.
neva2k@gmail.com
317-408-5898
2334 Winding Dr, Longmont, CO