Nancee Sebenaler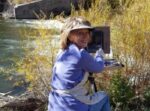 'Beauty is everywhere if you know how to see it'
There is so much hidden beauty around us and my goal as an artist is to reveal it to the viewer.
I am primarily a landscape painter but enjoy figures as well. I am happiest when I am painting water whether it is rivers, oceans, lakes, or waterfalls. Being near water is my happy place.
I work both in studio and plein air with soft pastel as my chosen medium. I love the intense colors and versatility of pastels which are perfect for plein air painting.
I have always loved to draw but was discouraged by my parents who felt that you can't make a living as an artist. Instead, I spent my career in industrial arts as a drafter and then electrical designer. I am retired from my career and am now a full-time artist. Colorado has been my home since 1987 and I have lived in Loveland for the last 25 years.
I am a member of the Pastel Society of Colorado, Thompson Valley Art League, and Windsor Lake Artists.
nancee_a@comcast.net
2238 Paonia ST, Loveland, CO