Diana P Wade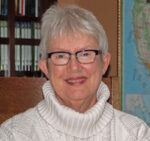 Why do I paint? To put my passions on paper!
Born and raised in Illinois, Diana is a retired RN who spent most of her working years in medical administrative positions. She and her husband Gary lived on Galveston Island, Texas for 30 years and retired to Loveland, Colorado in 2001 to be near their daughter and grandchildren.
Diana began to study painting in 2003 and has pursued a career as a professional artist ever since. Her work has been recognized in numerous national, international and regional competitions, and she has won awards in watercolor, pastel and mixed media/collage.
She is a signature member of both the Pastel Society of Colorado and the Colorado Watercolor Society. Elected to her third three-year term on the Board of Directors of the Art Center of Estes Park, she is currently serving as Board president for the sixth year and has chaired the Education Committee for nine years. She is also a member of the Longmont Artists' Guild and Fine Art America.
With an eye toward evolving as an artist, Diana's journey into "abstractivity" began in 2011. She is endlessly fascinated and challenged to discover new ways to pare shapes and ideas down to the bone… regardless of the chosen media. Adding layer after layer is her counter-intuitive way of "uncovering" the real essence of the work. She strives to let you know how she feels in each of her paintings.
dwade81744@aol.com
970-635-0103
592 23rd St SW, Loveland, CO