Barbara (bj) Yost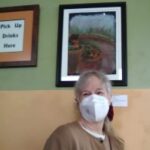 BJ Yost's works in pastels, handmade prints, and little books reflect her cultural shifts from Southern hospitable, through Midwestern nice, and Chicagoland fierce to Western independent.
BJ has studied with master pastelists, master printmakers, and internationally acclaimed makers of handmade books. Lists of her teachers and the galleries and other venues that have exhibited her work can be found on her website at bjyost.com.
In addition to making her own art, BJ and her partner D. Leighton Yost organize, hang and catalog art for the two-story atrium gallery at 1101West Mineral Ave., Littleton, Colorado.
BJ lives and works in Denver.
bjcommunication@yahoo.com
First Snow in Denver
The original painting in pastels depicts the artist's response to the first snow of winter and the deciduous conifer viewed from her sunroom. The snow is lovely, yet it causes the tree to lose its needles and appear to have died until spring greens it up again.
15.5 " H x 12.5 " W Framed
Out on Grandma's Hoosier
I retrieved Grandma's discarded Hoosier cabinet for a new life. In my homes it has been a kitchen cupboard, china cabinet, desk and printmaking table. Pastel on Canson Mi-Teintes paper
20" x 16" Framed