Telluride Aspens Too by Liz Haywood-Sullivan

Indigo Dawn Vose by Liz Haywood-Sullivan
To celebrate the 30th Anniversary of the Pastel Society of Colorado (PSC) in 2024, we are announcing a wonderful set of two 2-day workshops with Liz Haywood-Sullivan in the beautiful Arapaho National Forest.
Information from Liz:
Painting the Rockies with Water Vistas – Part I and Part II
This destination workshop is an amazing opportunity to paint in one of the most breathtaking locations in the US. We will be heading up into the inspiring views of the Rocky Mountains north of Denver near Granby and Grand Lake. Each two-day workshop will be at a different location and provide different painting opportunities. Take one or both workshops. Both plein air workshops will include lessons on how to select better compositions on location, how to paint different types of water, and the use of aerial perspective in grand vistas. I will demonstrate every day and then will work with you one-on-one at your easel.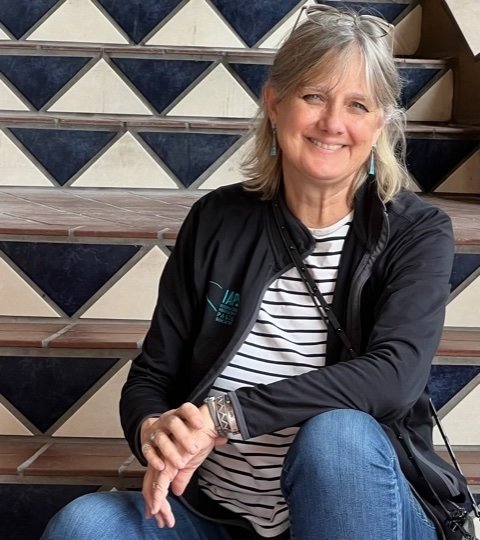 LIZ HAYWOOD-SULLIVAN, PSA-MP, IAPS/MC Liz Haywood-Sullivan, PSA-MP, IAPS/EP, has been dedicated to working exclusively in the pastel medium since 1996. Her attraction to the medium is pastel's unique ability to capture light and atmosphere in the landscape. She is a sought-after instructor and judge for pastel societies and arts organizations around the world. Liz authored the popular book Painting Brilliant Skies and Water in Pastel (Northlight, 2013). Her award-winning pastel paintings have been featured in numerous books and magazine articles, and have appeared in national, international and museum exhibitions worldwide. Liz is a President Emerita of the International Association of Pastel Societies (2013-2017) and is the current president of the North River Arts Society in Massachusetts. Her work is represented by Vose Galleries of Boston.
https://www.lizhaywoodsullivan.com
Workshop Details:
What: Two 2-Day Plein Air Workshops
Presenter: Liz Haywood-Sullivan
Where: Granby & Grand Lake, Colorado
When:
Workshop #1 September 10-11, 2024
Workshop #2 September 12-13, 2024
Time: 9:00 am – 4pm daily (meet @8:30)
Cost:
$275 for PSC Members ($550 if registering for both)
$325 for Non-Members ($650 if registering for both)
Maximum students per workshop is 15
TO REGISTER FOR THIS WORKSHOP:
You will choose which workshop (#1 September 10-11 OR #2 September 12-13) OR you can register for both. If you have any issues registering, please contact Andi Hofmeister (info below).
LODGING:
Because both Granby and Grand Lake are busy tourist destinations, we strongly recommend making lodging reservations as early as possible (10-11 months in advance). Some suggestions:
https://www.sunoutdoors.com/colorado/sun-outdoors-rocky-mountains (cabins like tiny houses & RV sites)
https://www.recreation.gov/camping/campgrounds/231862
https://www.colorado.com/co/granby/accommodations
https://www.colorado.com/co/grand-lake/accommodations
And, of course, Vrbo and airbnb
Please join us at this scenic area in the Rocky Mountains of Colorado. This will be a very special event at a beautiful time of year in the Rockies.
Andrea Hofmeister, Workshop Chair, andreahofmeister@gmail.com 989-621-3305.
(NOTE: After you register, you will receive more detailed information including a materials list, maps and itinerary)