workshops & paint-a-longs
3-Day Workshop with Natasha Isenhour
WORKSHOP DETAILS:
What: 3-Day Indoor Pastel Workshop
Presenter: Natasha Isenhour
Where: 7530 W 38th Avenue, Wheat Ridge, CO 80033
When: May 21-23, 2024
Time: 9:00 am – 4:00 pm daily
Cost: $375 PSC Members, $425 Non-Members
15 Maximum Students
DESCRIPTION: "Connecting Eyes, Heart, Hand: Amplifying YOUR Voice!"
A comprehensive overview of combining intuitive and artistic techniques to illustrate what you observe (eyes) with your emotional response (heart), in order to express it with your hand.
Strengthen your voice as a pastel painter in this 3-day intensive where you will dig deep into how to express your subjects using this intuitive approach while working with your unique voice. In this class you will be learning how to use the key principles of successful paintings to compliment your personal style. We will also explore materials, methods, and techniques to help you represent your subject. This is about learning to paint in your own unique voice—not a formula seeking to teach all students to paint the same way. Through discussion and abundant studio time, you will be learning your personal path toward being the one-of-a-kind artist that you are.
ABOUT NATASHA ISENHOUR:
Contemporary American Realist Natasha Isenhour expresses her emotional response to unpopulated spaces with an edgy lonesome starkness that defines the very essence of her work in oil and pastel. Isenhour exhibits throughout the southwest and teaches sold out workshops to students from coast to coast and internationally each year, both in plein air and in studio.
2022 highlights include Award of Excellence in the OPA Regional Exhibition in Dallas, TX and a 5 week solo museum exhibition at the Taos Art Museum and Fechin Studio in Taos, NM.
2023 Terry Ludwig Pastels LLC released "Natasha Isenhour Essential Alchemy" set of 60 pastels. In 23 she worked a second year as faculty for PACE, Plein Air Convention and Expo in Denver, CO, and was Featured Pastel Artist for the Mendocino Open Plein Air event in CA. Isenhour participated in her 3rd year at the 17th Annual Borrego Springs Plein Air Invitational in 2023 where she walked away with an Honorable Mention, an Award of Excellence in Pastel and was the Quick Draw winner. Lastly, Isenhour was awarded an Honorable Mention in the OPA Juried Online Show.
Representation includes: Ventana Fine Art, Santa Fe, NM, and Abend Gallery Denver, CO
Affiliations include: Signature Member of Pastel Society of America, American Women Artists and Plein Air Painters of NM. Distinguished Member of Pastel Society of NM and member of OPA and the Salmagundi Club NYC.
https://www.natashaisenhour.com/
CANCELLATION POLICY:
Refunds of the registration fee minus a $75 administrative fee will be allowed until May 1, 2024. After that date, refunds will not be given unless we can find someone to replace your spot. By registering for this workshop, the participant accepts the intent of the workshop description, and also accepts reasonable adjustments to logistics and content due to unforeseen circumstances.
We always feel badly when a personal emergency arises, however we must strictly adhere to this policy. ALSO, refunds will not be issued due to illness, emergencies or events beyond our control. No-shows will not receive a refund, regardless of the circumstances. If you drop out of a class once it has started, you will not receive a refund. We reserve the right to cancel any workshop, in which case we will make a full refund. Trip cancellation insurance is strongly recommended.
NOTE: After you register, you will receive more detailed information including a materials list, and list of Hotels/Restaurants near the workshop venue.
If you have questions or any issues registering, please contact Xenia Sease at xjsease@gmail.com or 303-261-5153.
---
Rocky Mountain High Plein Air Workshops with Liz Haywood-Sullivan 
To celebrate the 30th Anniversary of the Pastel Society of Colorado (PSC) in 2024, we are announcing a wonderful set of two 2-day workshops with Liz Haywood-Sullivan in the beautiful Arapaho National Forest.
Information from Liz:
Painting the Rockies with Water Vistas – Part I and Part II
This destination workshop is an amazing opportunity to paint in one of the most breathtaking locations in the US. We will be heading up into the inspiring views of the Rocky Mountains north of Denver near Granby and Grand Lake. Each two-day workshop will be at a different location and provide different painting opportunities. Take one or both workshops. Both plein air workshops will include lessons on how to select better compositions on location, how to paint different types of water, and the use of aerial perspective in grand vistas. I will demonstrate every day and then will work with you one-on-one at your easel.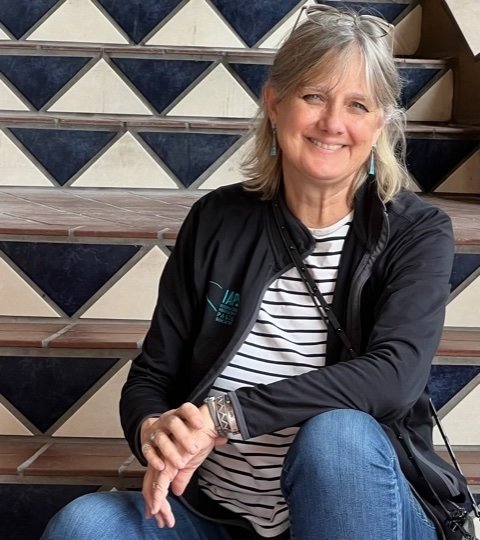 LIZ HAYWOOD-SULLIVAN, PSA-MP, IAPS/MC Liz Haywood-Sullivan, PSA-MP, IAPS/EP, has been dedicated to working exclusively in the pastel medium since 1996. Her attraction to the medium is pastel's unique ability to capture light and atmosphere in the landscape. She is a sought-after instructor and judge for pastel societies and arts organizations around the world. Liz authored the popular book Painting Brilliant Skies and Water in Pastel (Northlight, 2013). Her award-winning pastel paintings have been featured in numerous books and magazine articles, and have appeared in national, international and museum exhibitions worldwide. Liz is a President Emerita of the International Association of Pastel Societies (2013-2017) and is the current president of the North River Arts Society in Massachusetts. Her work is represented by Vose Galleries of Boston.
https://www.lizhaywoodsullivan.com
Workshop Details:
What: Two 2-Day Plein Air Workshops
Presenter: Liz Haywood-Sullivan
Where: Granby & Grand Lake, Colorado
When:
Workshop #1 September 10-11, 2024
Workshop #2 September 12-13, 2024
Time: 9:00 am – 4pm daily (meet @8:30)
Cost:
$275 for PSC Members ($550 if registering for both)
$325 for Non-Members ($650 if registering for both)
Maximum students per workshop is 15
TO REGISTER FOR THIS WORKSHOP:
You will choose which workshop (#1 September 10-11 OR #2 September 12-13) OR you can register for both. If you have any issues registering, please contact Andi Hofmeister (info below).
LODGING:
Because both Granby and Grand Lake are busy tourist destinations, we strongly recommend making lodging reservations as early as possible (10-11 months in advance). Some suggestions:
https://www.sunoutdoors.com/colorado/sun-outdoors-rocky-mountains (cabins like tiny houses & RV sites)
https://www.recreation.gov/camping/campgrounds/231862
https://www.colorado.com/co/granby/accommodations
https://www.colorado.com/co/grand-lake/accommodations
And, of course, Vrbo and airbnb
Please join us at this scenic area in the Rocky Mountains of Colorado. This will be a very special event at a beautiful time of year in the Rockies.
Andrea Hofmeister, Workshop Chair, andreahofmeister@gmail.com 989-621-3305.
(NOTE: After you register, you will receive more detailed information including a materials list, maps and itinerary)
---