Lamya Deeb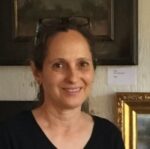 Lamya Deeb is an award-winning artist, working in oil and pastel. Her aim is to capture the unique essence and beauty of a moment and place, and to share the feeling of that experience with the viewer.
Born in the U.S., Deeb grew up in Beirut, Lebanon, witnessing that country's civil war during her teenage years. Her family's extensive travels in Europe and the Middle East brought her into contact with the great art and scenic beauty of those regions. These experiences have had a profound impact on her life and work.
With a BFA in Painting from Colorado State University, and a working background in illustration and design, Deeb has painted the landscape "en plein air" since 2006, and has continued to study with prominent artists, including several workshops with the late Elizabeth Mowry, her primary influence in pastel.
Deeb resides in Niwot, CO, and is an employee of Niwot's Osmosis Gallery. Her work is represented by Osmosis Gallery and Mary Williams Fine Arts in Boulder, CO.
Deeb is an associate member of: Rocky Mountain Plein Air Painters, Plein Air Artists Colorado, Pastel Society of Colorado, Plein Air Painters of New Mexico, Laguna Plein Air Painters Association, Oil Painters of America, and the American Impressionist Society.
Deeb's pastel, "Tranquility" was awarded an Honorable Mention in the 2022 PSC Members' Show. In 2014 at the Mile High Exhibition, she received the Elizabeth Mowry Poetic Landscape Award for "Candelabrum", and at the 2012 Mile High show, she received an Honorable Mention from Elizabeth Mowry for "The North Side".