Diane Pike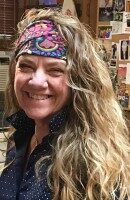 D I A L O G U E S I N P A S T E L
Events and experiences.
Dialogues and dreams.
Be it witnessing the aftermath of Nature's response to the reality of climate change or
the end result of simply pulling memories and dreams out of conversations shared–
light and its effect on color are the tools used to translate what is seen and imagined.
What comes off the end of the pastel stick can be challenging and unsettling,
but dialogues can be like that.
The struggle is in the notoriously difficult task of simply getting out of the way.
fishartz@msn.com
303-809-1226
The Tent Of Thought Where I Shelter
Trapping the swirling thoughts that swim through my memory vault and translating them into paint created a visual scrapbook of my dreams.
24 x 36
Can You Hear Them?
Nature has a way of talking to us through the rustle of grasses, the quiet murmur of water flowing over rocks, the song of a bird in the thicket of things. Change is happening even though we can't see it. We simply need to listen.
24 x 36
La Ermita
The Hermitage.
I used to live in a magical place. I lived in the woods, full of grand old trees, young trees, and trees that had fallen to the earth where I let them be.
These lines from the poem "When I Am Among The Trees", written by Mary Oliver, sum up the emotions I felt living there:
"...they give off such hints of gladness.
I would almost say that they save me, and daily."
Indeed they most certainly did.
12 x 9